No not *that* change! I mean the change of seasons!
So here we are with a real proper Winter cold snap (we've been pretty lucky this year compared to the last two haven't we?) and I'm thinking about Spring! I love Spring time I really do. I don't know about you but when the temperature lifts and the first signs of life come through the cold damp earth and the cherry blossom errr, blossoms, then I also feel like I am unfurling and coming back to life as well.
I do really like the New Year feeling in that it's a brand new shiny New Year and it feels like a new page, a clean slate, a fresh start...but I have difficulty getting galvanised and putting anything into practice. The Springtime kicks it into life for me.
So...I am hoping that after this cold snap it won't be long before the daffodils come out and the tree in the front garden is adorned with pretty white flowers again.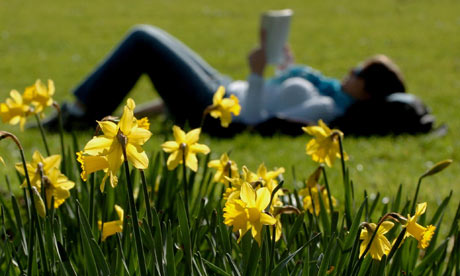 So what do I want this year?
I really REALLY want to feel I have knocked stupid spending on the head and the only way I will know that is to watch savings grow and observe my purchases and note my feelings when I am in shops looking and 'stuff'. I hope to notice more "need" purchases than "wants" and if I do indulge in "wants" then they must be out of a budgeted figure. I guess in a nutshell I am looking forward to the next chapter in my financial life.
I want to continue enjoying my new job. No elaboration required on that really. I have no desire to get promoted or get myself noticed in any way (apart from just doing a good job)...I just want to enjoy it and not dread Sunday nights.
I would like to make some more house improvements. Ideally I'd love to move BUT that can't happen right now so I would like to feel like I am working to make the best of where we are and work to keep it cosy and homely for hubby and I.
And I'd like to see more of a select few people. As you get older I think you realise who the people are that you should be sharing your time with. For me, time is
the
most precious commodity and I can be extremely selfish with it these days. I have spent far too many days and nights in the past wasting money & time on and with people that I shouldn't have done and that time and that money are gone forever, completely wasted. It's the time that's more regrettable though in my opinion. So this year, it's quality over quantity.
So those are the things I am looking forward to getting started with and I feel quite excited about them all really!
How about you? Please do share your thoughts, I am always inspired by other people's stories.
xx